Boulder Homes of Monsanto, Portugal
While pin surfing, I saw a crazy photo on Pinterest when I searched for Portugal, where an enormous boulder sits on top of a house like an ostrich egg on top of cake. To be sure it wasn't photoshopped, I followed the description and found the official Monsanto website. Completely boulder struck, this was a place we have to see for ourselves.
Monsanto is about 4 hours drive from Lisbon and 20 minutes away form the border to Spain. Getting there would be a bit of a challenge without a car. Luckily Russell is always in a driving mood whenever he gets the chance to operate a stick shift.
From chatting with a few other travelers on our walking tour, we learned that Portuguese are known for their NYC taxi style driving and that we better route our trip to avoid traffic and rush hour. On the morning of our departure, Russell picked up the car a bit earlier than the standard business hour and got out of the city unharmed. Right around the edge of the city was this fantastic medieval arched bridge that could've easily turned into the next hot attraction.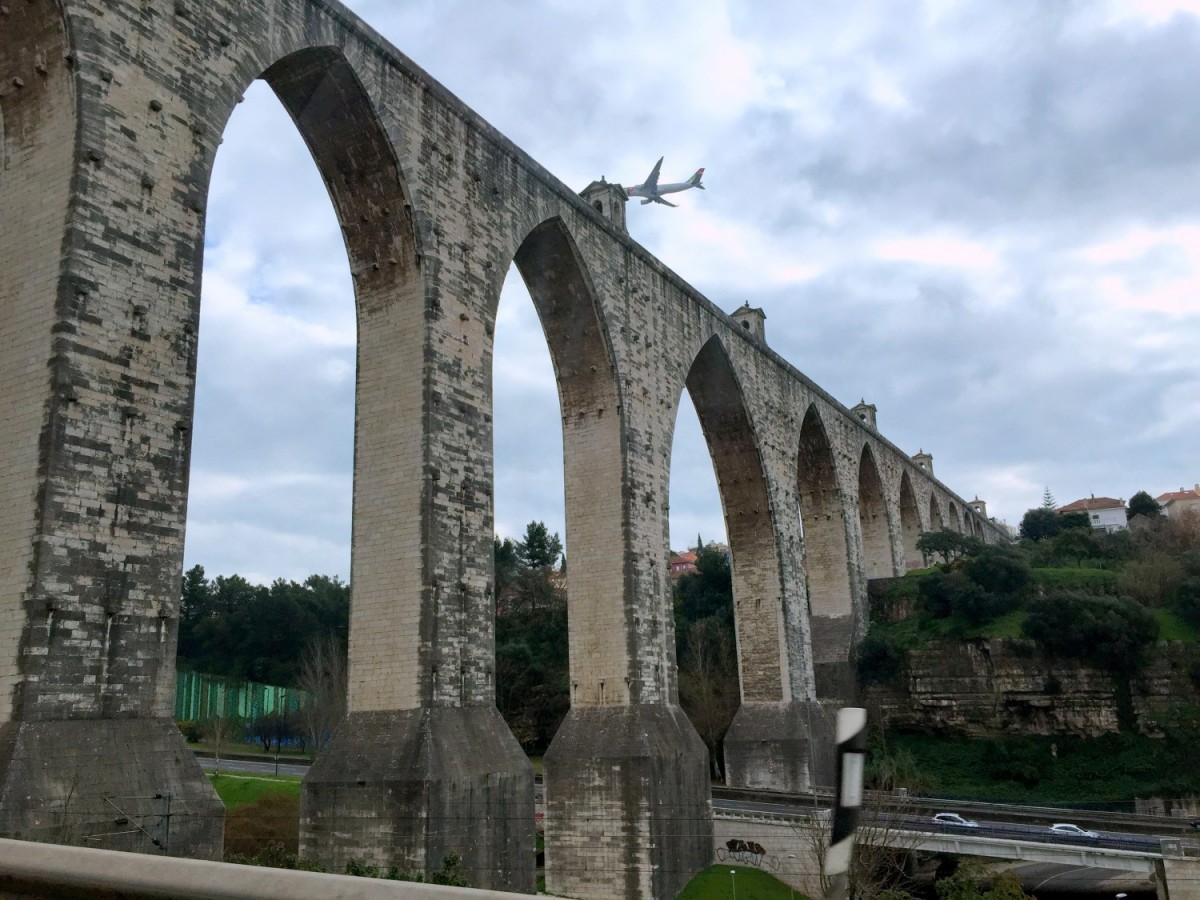 Other than that the next four hours was of typical countryside scenes. We stopped at a larger town for breakfast and the pastry recommended by other patrons at the bakery was quite the looker.
One too many Portuguese pop songs later, we arrived at Monsanto. The boulder castle and town sits atop a mountain with a few villages surrounding the base. The first thing we see was a cafe and church by the visitors' parking lot. We didn't book a room for the night yet because we didn't know what to expect.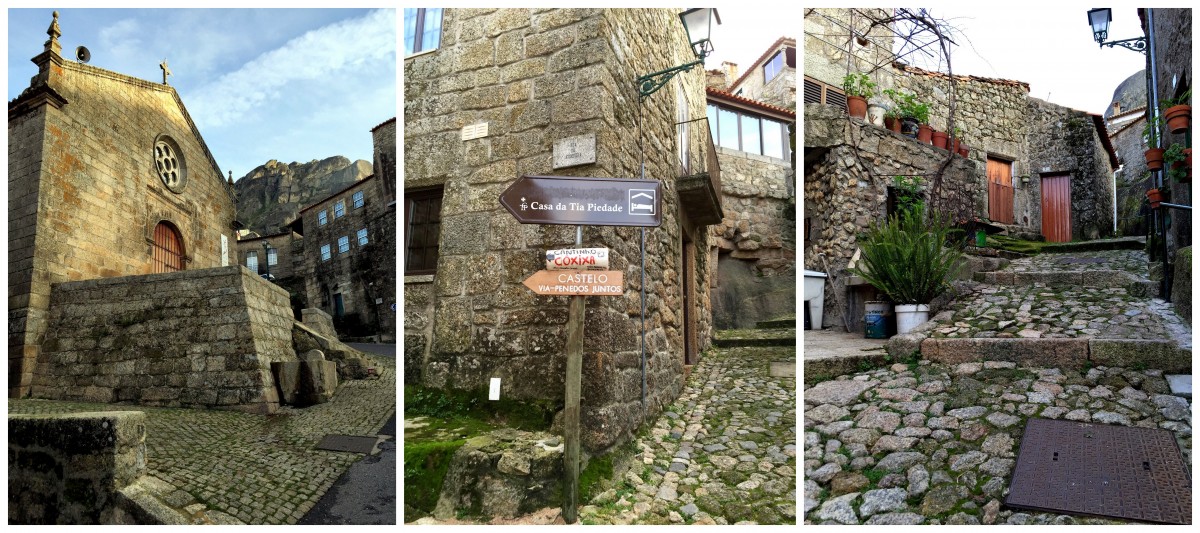 We were now hustling around to see what is available.Christmas must be the slowest season of all seasons, and most people were probably visiting relatives at this point. We find a tourist center (huh?) open (what!) with a guy looking at us like we're about to rob him (seriously, stop watching *ahem* behind your laptop). But he was almost helpful and circled a few places in a brochure that are still in operation and said we can call or knock on the doors. So knock we did. We knocked and called all over town and finally, a woman opens her door. She was booked for the night (now we're getting a tiny bit nervous) but promptly called her neighbor who did not open her door when we knocked. The neighbor answered and said her bed and breakfast stone house was available. We ran and we scored, touchdown! And it's the best kind of boulder home a traveler can hope for (Cantinho da Coxixa is the name of the B&B, book online on Booking.com).
The only thing about stone houses…they're perfect for summer but extra cold in winter. It was so cold that night we boiled water for more heat in addition to the radiator they had. And didn't take our coats off until bedtime.
After we're settled in, we had about an hour of daylight to explore the town and figure out where to get dinner. There's an almost 24/7 cafe that serves sandwiches and burgers, but no soup since the cafe license does not allow a gas stove, only electric hot plates. And with the temperature dropping, I just want some soup. We found a small grocery store and grabbed a lemon and a small jar of honey for breakfast.
Eventually, we decided around 8 pm to drive down the mountain and see what's there. It wasn't hard to tell where the party was at. A full lot of cars and one of the few buildings with lights on, we found what looked like the only restaurant open in town. Score!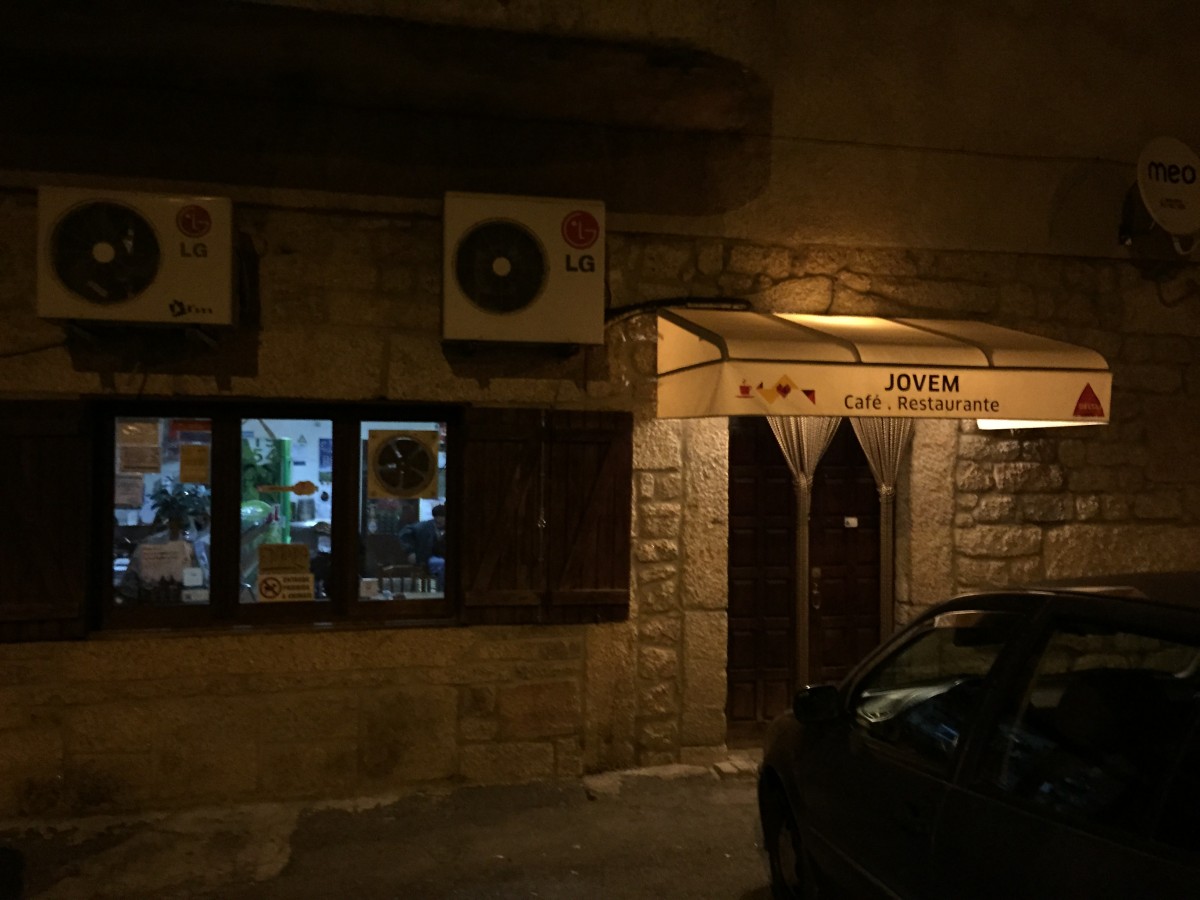 Day 2
Getting out from under 3 layers of blankets was hard, reminded of those school days when one had to get up at the crack of dawn and wait in the cold for the bus. A nice hot pot of tea and the thought of breakfast made it possible. We had enough time to do one quick hike around town and up the to peak where the castle is. Enroute the wiggly dirt paths, we ran into our neighbor who was restoring the original windows (circa the 1800's?) of his boulder home. He was friendly and superbly fluent in English. Once a surveyor, he was also boulder struck by Monsanto's beauty and decided after one visit that this is where he'll retire. Then he offered us a tour of his home, check it out, it's got a "basement" too!

Soon we got back on the trail headed for the castle. It's only about a mile upward. Along the way, we saw more buildings resembling the integrated lifestyle of the Monsanto people. Church, farms, restaurants, you name it. Everything has a "touch of boulder."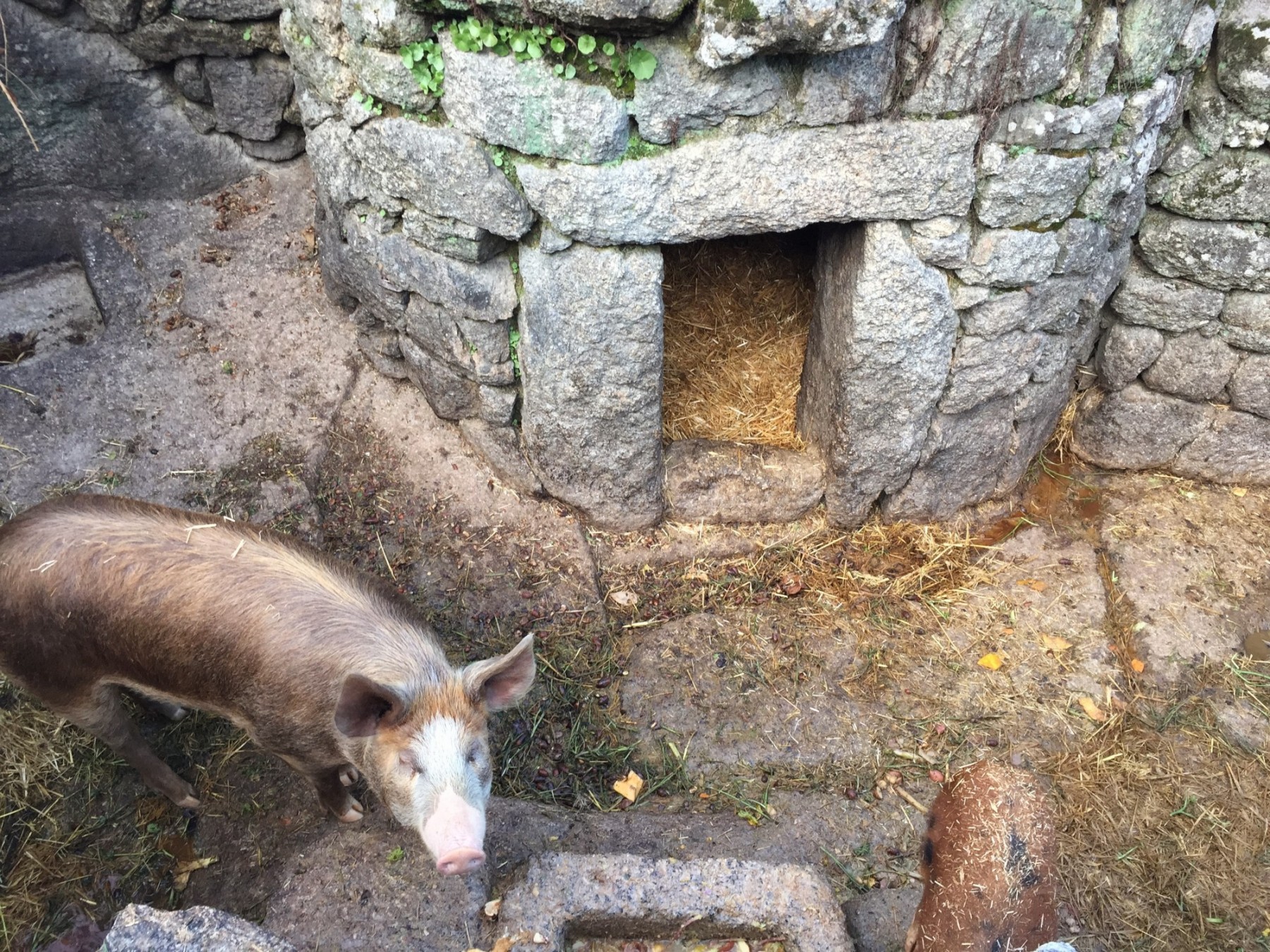 Finally, we reached the top. The view was spectacular with over 20 miles visibility; you can see Spain from it! There are many other trails with trail markers, but they seemed overgrown and after back tracking on the orange trail a few times, I gave up and called it a day. Maybe next time when I bring my machete.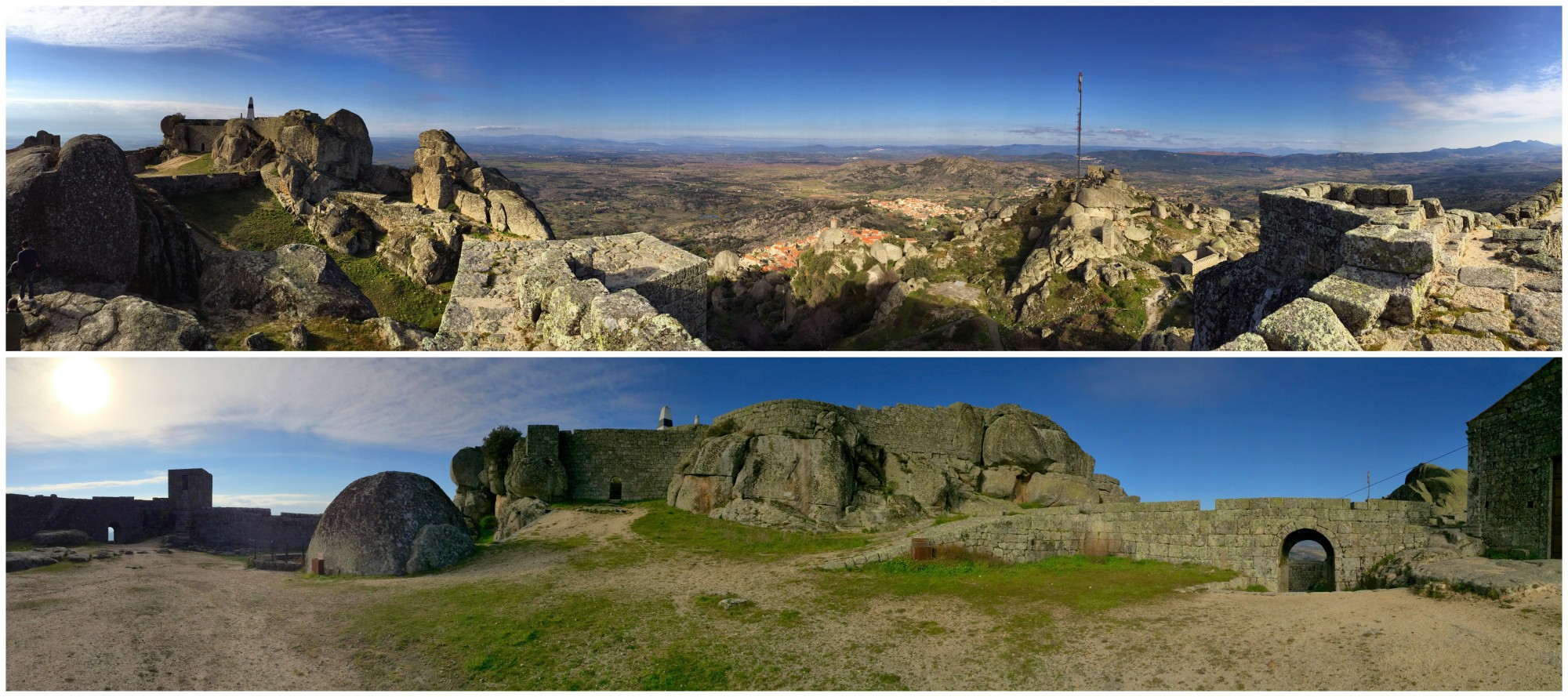 We were a bit sad to leave to soon. For us, Monsanto was a town frozen in time, the closest we had been to experience the history of Portugal.
Cost Highlight
Cantinho da Coxixa – roughly $65 USD per night depending on exchange rate
Cafe sandwich/pizza – $4-$6 USD
Dinner at Jovem – $8-$12 per entree