Tupiza, A Quaint Little Town Full of Surprises
With a population of roughly 25,000, Tupiza is known as the "town where Butch Cassidy and the Sundance Kid met their end at the hands of the Bolivian army."
From Uyuni where the salt flats are, many travelers will select the route that goes to the Atacama Desert in Chile and cross the border that way. Instead, I chose to head to Tupiza from Uyuni by bus and cross over to Salta, Argentina.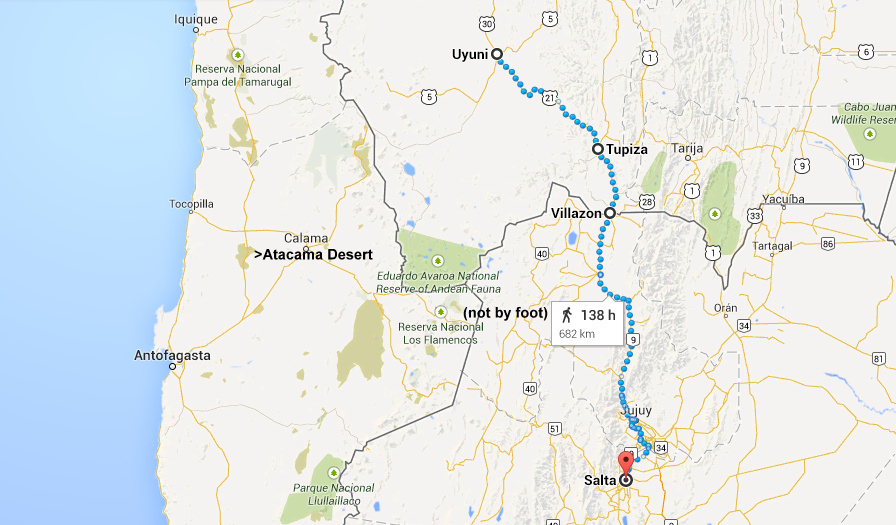 How to get from Uyuni to Tupiza
You can book by bus to Tupiza via Potosi, about 7-8 hour ride, or you can take one of the few trains available in South America for 5-6 hours. The train runs every other day and it's best to book ahead. There was only one ticket window open when I went and if it's office hour and no one's there, just wait.
I booked the Expresso del Sur Executive class for $17 USD with pre-assigned seat because I never got to try full cama on buses, plus it was a late night ride where I read the cabins can get very cold, which it did. The executive cabin offered pillows and blankets for which I realized I would've been miserable without.
Upon arrival in Tupiza it was 3:30 AM. Tupiza is a small town and fairly easy to walk if you have companions. Being by myself, I opted to cab to the hostel which was less than a mile away for $1 USD.
Timetable and links with more information
What's so special about Tupiza?
At first, not much. I was feeling a bit burnt out from the Uyuni tour and really needed to chill out and rest for a few days. I wanted to go to Sucre but the thought of riding another 10+ hour bus was not all that appealing while the energy level was on low. Tupiza seemed like a good choice and I was thoroughly intrigued by its description as the "town out of a western movie where Butch Cassidy and the Sundance Kid met their end at the hands of the Bolivian army."
My first day there was spent in recovery and only walked out within a few blocks in search for food. I stayed at La Torre hostel, one of the few options in town, the rates are cheaper if you book directly on their website. La Torre is also a tour agency with decent reviews. On day two I began asking around about the full day horseback riding tour. I started with La Tour and went to two other tour agencies, and the conclusion I got was there's really only ONE tour operator in Tupiza. All the tour agencies were calling each other to form the group. That's when I realized how tiny of a town Tupiza was.
I waited another day to have enough people wanting to take the same route. The full day horseback riding tour includes Palmira, Puerta del Diablo, Valley of Males, Cañón del duende, Toroyoj, La Torre, Entre Rios, and El Angosto.
Knowing the propensity for heat in the desert, I had on a tank top and equipped myself with 100% SPF sunblock. At 9 AM (considered quite early in their culture), an Irish girl, an English dude, and I met our guide, Miguel and walked over to get our horses.
The horses were all in healthy condition and of Argentine descent, arguably the best breed money can buy. You will notice the difference too from the larger frame, proud and consistent strut, and what seems to be an endless supply of energy. Miguel said each horse costs $2000-$3000 USD, that's no small amount in a town where you can get by luxuriously for $20 USD a day!
The tour took us through desert valleys, oasis, bamboo forest, wide river crossings, cactus land, gorges, rocky shores, and more desert peaks. I felt the urge to knot a rope and chase some goats down (but I didn't. There were goats and ropes but no skills.) Miguel even took the lead to race and gallop a couple of times.
The horseback riding tour was one of the best ever. The scenery was even better than Mendoza, Argentina in a sense that you will experience more variety of landscapes with less distractions (i.e. other tourists.)
Authentic and amazing food
I did not expect much from a town center made up of 5 blocks of commercial stores, especially after the lackluster food selection in Uyuni. However, the choices I came upon was amazingly authentic and tasty! No directions, just circle around and look for a place where the locals are, you won't need to walk more than 5 blocks anyway. Oh, and there is a morning market by the main bus stop that serves some awesome street food and drinks. Must go early, before 9:30 AM otherwise the good vendors sell out and leaves.
A 'creative' bus station!
The surprises just kept coming. Since I arrived by train at a separate station, my first impression of the bus station came when I was looking to book a bus to Villazon, a town in southern Bolivia, on the border with Argentina. A ten minute walk from the hostel, I grabbed a nice stuffed pastry off the street and found the bus station that looked as if Tribeca hipsters took a field trip down to Tupiza.
After being in so many bus stations in South America, this one is definitely unique and full of character. But which company to pick? If you're going to Sucre or Potosi, the company Juarez C. and 11 de Julio are your two best choices. For Villazon, it's a short 1.5-2 hours trip ($3 USD) and you can just show up any day to catch the morning or evening shuttle. The morning is recommended as the line can get very long at the border to Argentina.
Hasta la próxima, Tupiza!
It was a lovely 5 days in a lovely town. Small but robust and full of very curious people. The tourism industry is no doubt getting more attention as people travel to Uyuni and down Argentina. I'm sure if I get to visit again, it might be very different. For now, it has everything good about a small town with friendly and welcoming residents. If you're visiting Uyuni, don't miss out on Tupiza!
Cost highlights
Single room w/private bathroom at the hostel – $12 USD/night
Lunch (menu de dia) – $3 USD/meal
Tamale from the morning market – $0.30 USD/each
Flan – $0.75 USD/each
Api morado juice – $1.30 USD/glass
Full day horseback riding in group – $55 USD/pp
Bus to Villazon – $3 USD