Pampas, Rurrenabaque – Amazon Round 2!
Why the Amazon again, after all the mosquitoes, sweat and tears from the last trip to the Amazon, one might ask? There's only one answer to that. Because I had some of the the best and worst times throughout this trip in the Amazon. Plus I simply must see a live capybara!
After taking a couple of days to explore La Paz, we got up at 4 AM to catch the flight to Amazon and meet up with Tu at the airport. The flight was timed so that Tu wouldn't need to leave the airport at all followed by his 12 hour flight from the States to La Paz. He landed at roughly 3 AM and the flight to the Amazon was at 6 AM.
There was absolutely nothing on the road when we left the hostel at 4:15 AM. It would've actually been a really nice time to drive through the streets to get a glimpse of the neighborhoods. We got to the airport and thanks to Sylvie's T-mobile international text and data plan, we got in touch with Tu and he found us in no time. Before our arrival to Rurrenabaque, it was recommended to pull money from La Paz since there were only 1-2 ATMs in Rurren. At the La Paz airport we found a ATM room that was set up like the arcade and we got quite the selection.
The plane was small, with only 20 seats on board and you can see right through to the cockpit. It was quite chilly in the morning and all the windows were frosted. The plane takes off swiftly and in minutes we got a panoramic view of the sunrise over La Paz. Ten minutes later everyone looked out of their window in awe as we flew over the Cordillera Real mountains, where we can almost see a yeti on the snowcapped glacier under the full moon.
The flight was only 45 minutes long (versus by bus, would've been 25+ hours!) and as we entered the Amazona, the scene reminded me much of "Up" and their trip to Paradise Falls. How many balloons would it take to carry five people and their backpacks, and maybe a car? I wondered. The Rurrenabaque airport was a landmark in itself. There were two terminals and a table for security entrance. Oh and a dog on the landing strip who was obviously the guard.
There's an airport shuttle that will take you to city center for $10 BS per person. It was a good deal since the alternative is to ride a motor taxi for the same price. We got into town and went straight to the tour agency, Max Adventure. All before 8 AM! We repacked our bags for the 3 days 2 nights Pampas tour that was leaving the same morning and got some [more] breakfast. To get to the pampas we had to take a 3 hour jeep ride to the Yacuma river, then a scenic 3 hour boat ride to our river lodge.
Day 1 – Taking off for the Pampas!
Our jeep driver and guide, Eddy, became a friend immediately after we ran out of the first six pack and needed a refill. Eddy promised to swing by a town on the way where there's a good cheap place for beer.
We saw a wild boar and a few oso perisosos (literal translation is 'lazy bear', aka sloth) on the way. A few beers con and sin alcohol later, we arrived at the boating dock, where I got attacked by mosquitoes immediately. Within seconds I got 5+ bites and quickly sprayed some repellent. Jacky, our pampas guide, led us to his boat where we met the couple in the same group, Aminah and Dan. The boat had no cover and we were sitting on seats made of strings and metal frames. It did not look comfortable at all let alone a three hour ride.
The search for animals was what kept us entertained, definitely made the uncomfortable ride less noticeable. Sylvie and I were constantly under attack by mosquitoes even while the boat was moving. It was the worst mosquitoes attack ever, they came in the formation of space invaders and tore us to shreds. Somehow we still managed to keep focus and look for animals. Jacky would  shout whenever he spots one and the instruction would be something like this: "Alligator alligator, rapido (quick), camera camera!"
The campsite was very well equipped with bathrooms, showers and beds with mosquito nets. Jacky taught us jewelry making 101 with only seeds and strings. He took a sanded seed and polished it with some cigarette ash and it became shiny as if it was made of plastic! We all got put to work to saw, sand or clean the seeds. Except Joaquin, he was popping bottles and taking shots with everyone (jk, he did saw for a bit…)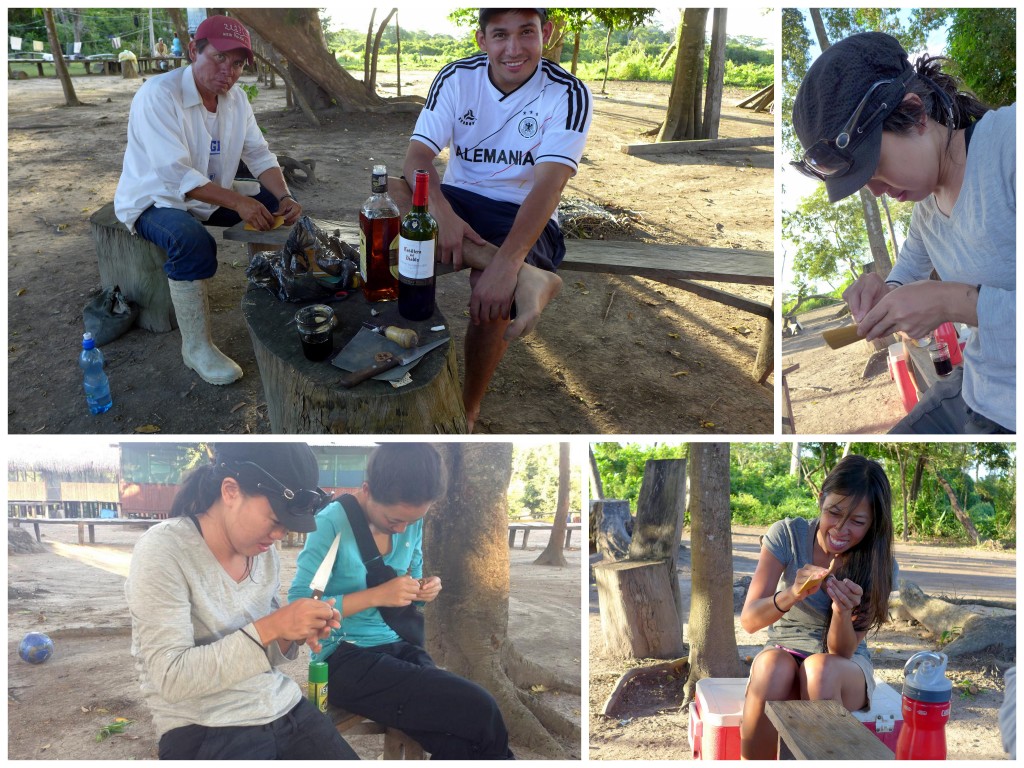 After dinner Jacky took us all to look for alligators and caimans. In the midst of darkness, the reptiles' eyes has a red glow that can be spotted with a flashlight when shined at just the right angle. We saw quite a few, some big some small, but since we had been up since 4 AM, half the boat was sound asleep under Jacky's instructions of **flash flash flash** "look right!" **flash flash flash** "look left!"
Day 2 – Anaconda Hunting, Fire and Rain
In the morning we woke up extra early (5 AM?) to go look for howler monkeys. Instead, we found a hungry Cappuccino monkey that wanted the banana on our boat so bad he was dangling by a leaf.

Then to my personal surprise and satisfaction, we came to the breakfast spot of a capybara, the largest rodent in the world! Some facts from wiki:
Capybaras are herbivores.
They can run as fast as a horse.
They are excellent swimmers, and can remain completely submerged for up to five minutes.
They are hunted for their meat and hide and also for a grease from its thick fatty skin which is used in the pharmaceutical trade.
The morning has been quite successful. After lunch the plan was to find anacondas in the field and we hoped that we will be lucky, as it's usually a 50/50 chance in finding an anaconda. Everyone first found their wholesome, hole-less boots for the trek and off we go.

Our passage into the field was through a farmer's house where he dries all his reptile and cow skins. I'm sure he's still got some leftover gator meat somewhere based on the coverage of the piece hung in his yard!
We trekked in the hay field forever, looking for the infamous jungle killer known to snatch a cow or even a person as easily as an eagle to a rabbit. Our only form of defense? A well handled wooden stick oiled by our palm sweat. Oh and Jacky. His eyes glistered at the chance the whack-a-anaconda with his short (but deadly) machete.
An hour and a half later, Jacky announced that our search in the dry hay field is futile and he will go into the swamps to find the beast. "Muchos mosquitoes!" he warned. And that's how the girls stayed in the hay field while the boys disappear into the far horizon lit by the silhouette of a jungle oasis.
It was an uneventful episode of Survivors in the hay field. Half (out of 3 persons) of us wanted to go look for them in the swamp, half wanted to trek back towards the house. There was no time for alliance or conspiracies, we were drawn toward the house by a Nandu, a bird that looked like a smaller ostrich, that ran across the field.
As we attempt to waddle through the hay field with no clear path and only the house as the guide, the boys returned from the swamp, with trophies in hand! They did not find the anaconda, but instead, a newly shed cobra skin, so fresh it was still soft to the touch, which Tu used to accessorize his Amazon runway outfit. Joaquin had in his hand a small skull (of?) that he can wear as a bracelet, or headband. With that, we concluded the anaconda hunt and went back for lunch and a much needed loooooooong afternoon siesta.
The day's not finished yet. Post nap, Jacky said we should go try to fish for some pirañas. Being the beginning of the wet season, it was harder to catch pirañas but we will try nonetheless. Once again, our attempts were futile. No pirañas in sight and it's unknown what was eating all our bait. Though we did see families of howler monkeys and a few more oso perisosos!
On the way back we stopped by another camp site to join other groups and local families for a friendly game of soccer, some beer, and cock dance. Then we returned to our own lodge for a gargantuan bonfire made by Jacky. It was a reverse teepee and as wide and tall as a dinner table. The fire burned fiercely, then it began to rain. And rain it did…the drizzles grew into a monsoon within the hour. We had to abandon the masterpiece of a bonfire for roof coverage, as the group continue their tango with vodka, rum and pisco.
The rain continued for the next 20 hours!!!
Day 3 – More Rain, Swim with Dolphins, and Farewell to the Pampas…
Another early morning. So wet and grey this time that we were allowed to sleep in for an extra half an hour. It was a blah day but we were all excited about the activity — swim with dolphins! There's a "dolphins playground" that all the boats go to. When we got there, there was already 2-3 dolphins in the water and a couple of boats standing by. The rain was really cold and the water still warm, it turned out to be much warmer to stay in the dark, blackish, nutritious Pampas water.
The dolphin's rubberish skin slid pass by swimmers as luck (or dolphin) would have it. I got a quick subtle rubbery nudge once and a few others got more. It was a lot of work and I'm sure it would have been much easier if I was in SeaWorld, but these are wild dolphins! Felt gratuitous that they want to stick around and play.
Lunch followed as well as Jacky's presentation of our parting gift, made by him with a tiny bit of our help. For a rough man of the Pampas, Jacky was crafty with the strings and made what appeared to be shiny new decorative accessories from dry nuts and beans you would pick up from the forest's ground.
A rainy, cold and windy 2 hour boat ride later, we were back at the dock where Eddy dropped us off. And guess who was there waiting for us? Our friend Eddy! He even let Joaquin drive for a bit on the rocky (now muddy and flooded with random streams) road. No one was in the mood for beer this time around.
I was asked what the differences were between the Amazon in Leticia/Peru and Rurren….here's a quick comparison:
| | | |
| --- | --- | --- |
| Peru Amazon VS. Rurrenabaque | Peru | Bolivia |
| Boats | Roof top cover, seats are bench style and much wider | No cover, string seats and very narrow |
| River | Very very wide. On the Amazon, fast currents and the color was more brownish tan. | Very narrow with dark (blackish) waters and smells like dirt |
| Animals | Mostly birds with some sloths and monkeys from afar. Many many types of fish, plenty of pirañas. Alligator and caiman. | Birds, capybaras, alligators, caiman, lots of monkeys (squirrel, cappuccino, howler) within reach. |
|  Mosquitoes |  A lot and they are constantly attacking you, but most of the time as long as repellent was applied then they stay away |  Pampas – They want your blood at all cost. Repellent works but only for a couple of hours if that. Then one must re-apply or be the buffet. |
|  Accommodation |  Homestays (no shower or toilet) and lodge (shower and toilet), slept in hammocks, beds optional. | Lodge with beds, shower and bathrooms. |
Cost highlight:
Flight to Rurrenabaque from La Paz: $85 USD one way
Pampas 3D/2N tour: $700 BS/pp
Bus shuttle to Rurren town center: $10 BS/pp
One night in hostel when returned to town: $50 BS/pp
Amazon gallery: